Electric Floor Heating is usually zoned on a room-by-room basis allowing you to heat different rooms at different times/temperatures. For example you may have an ensuite on at 6am heating to 28 deg floor temp, living room during the day at 24 deg and guest bathroomsonly heated when occupied. Each zone would have its own 'set and forget' touch screen 7-day thermostat/timer, these can also be upgraded to WIFI versions controllable from an app on a phone or iPad.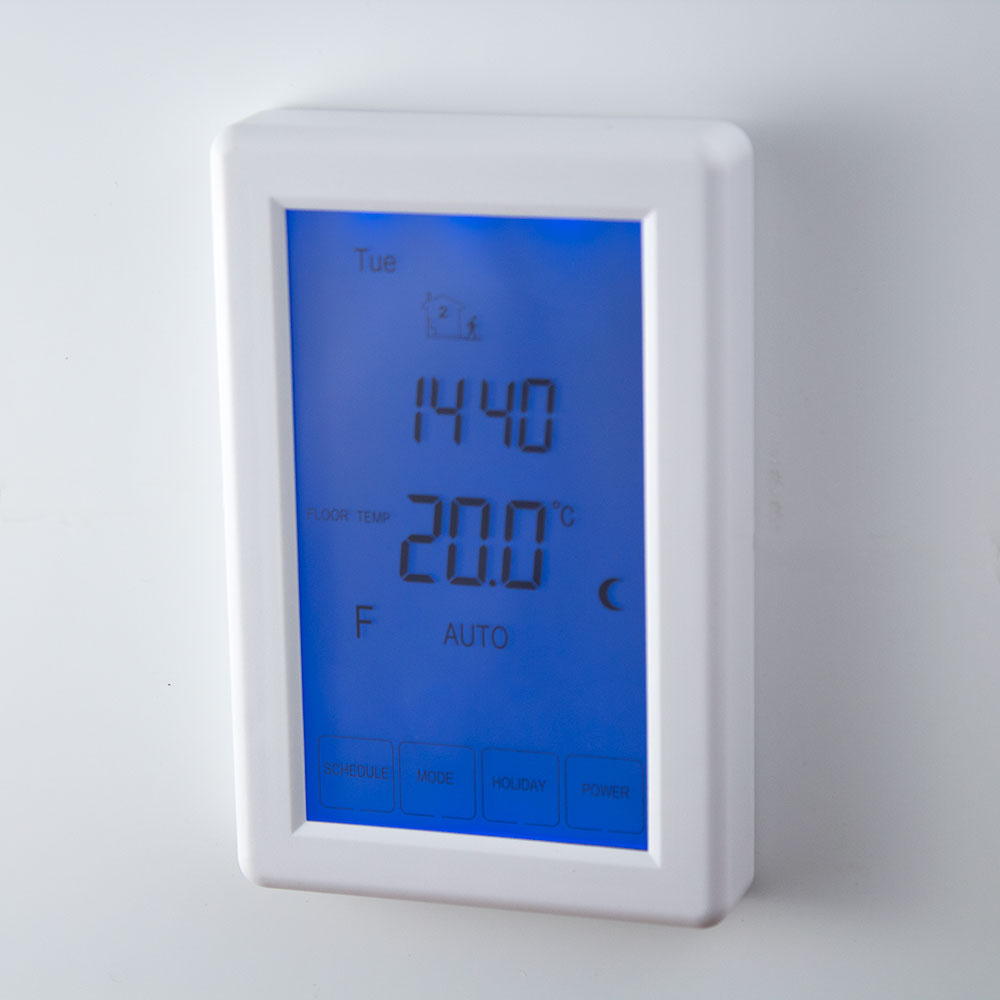 Standard Thermostat - TS8100W-TH-V
This model in white and vertical is the standard included in every Installation quote, upgrades to either Premium styles and finishes or Dual units are available at an additional cost.
A Radiant Thermostat is an ideal and stylish option for controlling your electric under floor heating. The blue back light is NOT permanently on, only whilst programming, but provides an easy way to set the on/off schedule twice daily plus the desired temperature. During the off period, this thermostat still enables you to set a minimum temperature so you can maintain a base temperature, or if you have solar you can use this to trickle power from your solar panels to the floor heating to maintain a higher temperature throughout the day for little or no cost.
Width: 80mm
Height: 120mm
Depth: 15mm
Standard 240V
Max Amps: 16A
Warranty: 2 years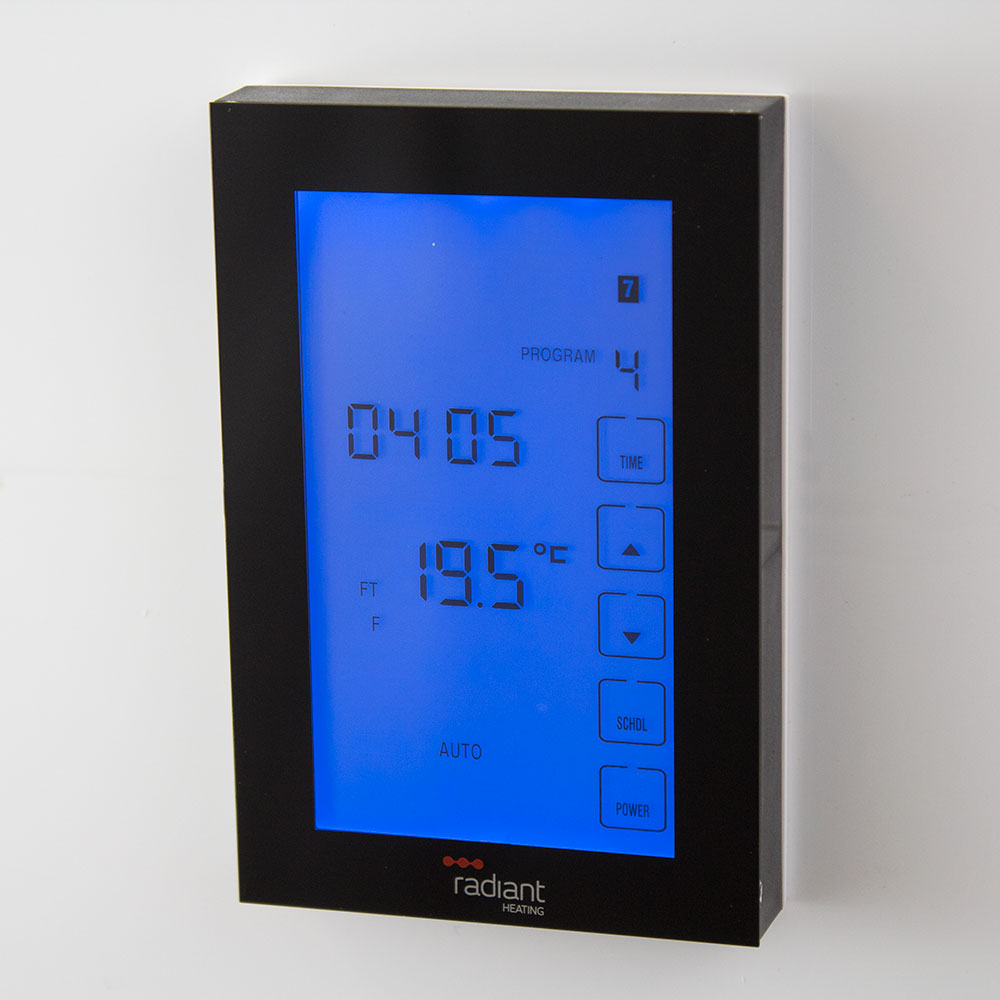 Premium Thermostat - GTS Range
The GTS range of thermostats are functionally exactly the same as the standard thermostat included in any install quote. However this premium range are aesthetically improved in their overall look and feel. The addition of the glass screen to this range allows for the plastic casing to be disguised. This therefore allows for this particular range to be made available in a few alternative colours, to match any colour scheme - White / Black & Silver.
Width: 80mm
Height: 120mm
Depth: 15mm
Standard 240V
Max Amps: 16A
Warranty: 2 years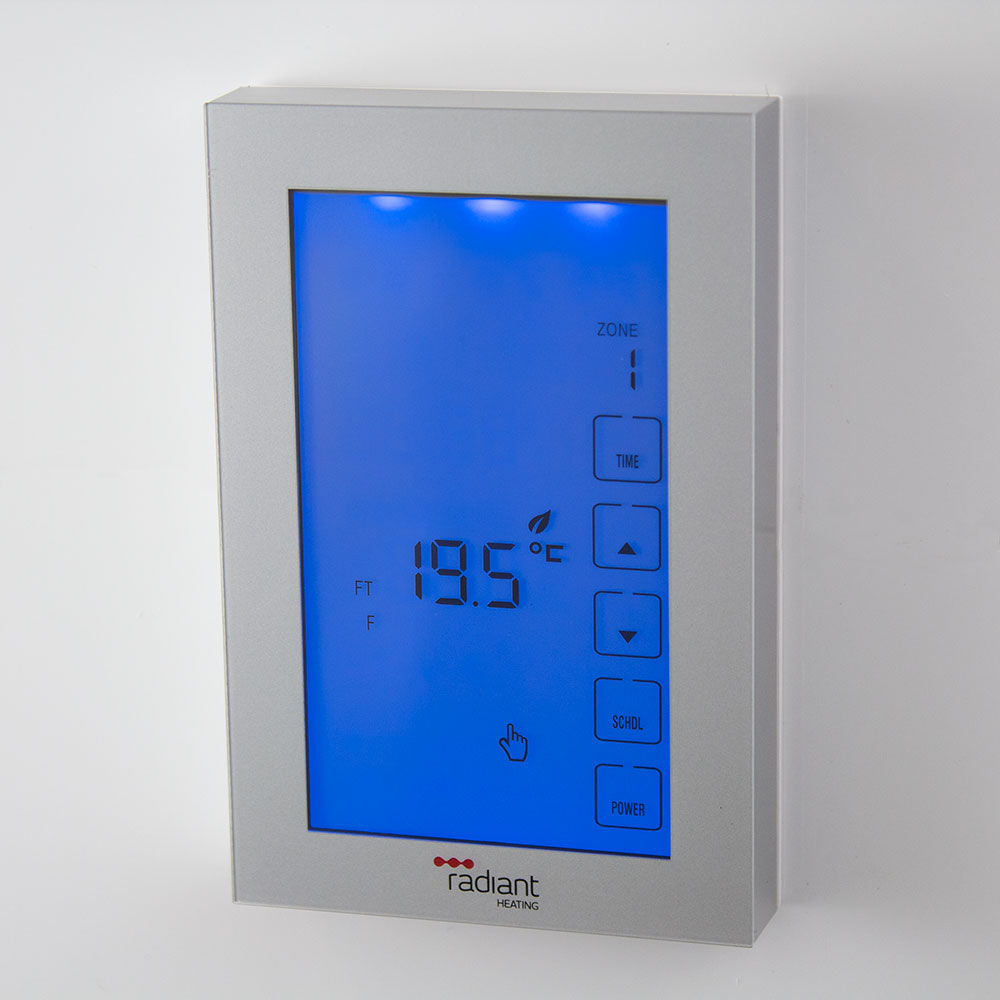 Dual Thermostat & Timer
A Dual Timer & Thermostat option is perfect when installing under floor heating and a heated towel rail. The Dual controller has two zones, one for the under floor heating and another for the heated towel rail allowing you to set independent schedules for each. This single combined unit removes the need to have two different units mounted on the wall in your bathroom, instead this combined digital touchscreen controller does both.
Upgrades are available in both the standard and premium models.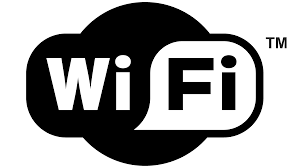 WiFi Enabled Thermostats
We also offer a range of WIFI enabled thermostats and Dual units, that allow your Underfloor heating to be controlled from your smart phone or tablet.
This WiFi units can only connect to 2.4Ghz WiFi networks. If you only have a 5G WiFi network available, you will be unable to connect to these units.

10 Year Warranty

European Cable

Economical To Run

Asthma + Allergy Friendly